The first month of the year can feel like the longest with dark evenings and often bad weather outside. Gardeners will be itching to get ahead with jobs, both indoors and out, but it pays to be cautious. Even if the weather is mild, cold spells can arrive suddenly and at this time of year a sub-zero snap can be prolonged and severe. That said, there are plenty of nice jobs which can be started now including some seed sowing, mostly indoors but also outside (particularly in sheltered gardens).

By the time we reach the end of January, the first days of spring are not too far away. Early snowdrops and winter aconites may be starting to flower and we can allow ourselves to think about tidying the garden for the year ahead – and then get ready for preparing in earnest for the main seed sowing season.

To see all seeds that can be sown in January, take a look here.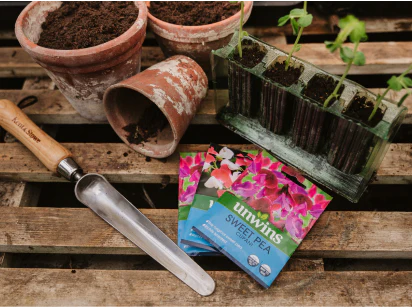 Top Seeds to Sow in January
It may seem early to start sowing these tender vegetables, but they are plants that need as long-a-season as possible to give good crops. Starting them in January should give you decent sized plants by the time you get them out in your greenhouse.

If you are going to grow them outdoors eventually. you are best to leave sowing for another month, as plants can't go out until after the last frost - usually in May. Sow seed in pots or modules of seed compost and pop into a propagator, or cover with a bag and place on a warm window sill above a radiator. After they germinate, pot-on once the seedlings are big enough to handle, and plant out in a greenhouse in April. Remember to ensure the greenhouse is kept frost-free.
A well-loved variety of aubergine is Unwins Aubergine Moneymaker F1, or for something a bit different, try this beautifully striped variety, Unwins Aubergine Pinstripe F1
It is unusual to suggest growing asparagus from seed, as this delicious vegetable is usually planted as a 'crown' (a young, bare-rooted clump). If you have the patience, growing from seed is cheaper and arguably more rewarding. Look for seed marked as F1 that produces mostly male plants, because these will be the most productive for cropping. Sow in seed compost using pots or a module seed tray, placing a single seed in each. Keep indoors on a sunny window sill or in a heated greenhouse. Plants will germinate and grow-on, and can be planted out in their final positions in late spring, in a well-prepared dedicated bed. Plants will begin cropping in three years' time – just a year longer than those planted as crowns.
Try Unwins Asparagus Connover's Colossal Seeds, they produce tasty, succulent spears of asparagus with fantastic flavour with an early harvesting time!
Vegetables
Mustard Greens - as a greenhouse and cut-and-come again crop
Cauliflower
Cabbage
Lettuce
Chillies and sweet peppers
Leeks
Broad Beans
Early Peas
Spring Onions (best under a cloche)
Winter's purslane
Lamb's Lettuce

Herbs
Sow inside on a window sill

Ornamentals
Delphinium
Sweet peas
Dianthus
Lobelia
Pelargonium
Begonia
Iceland Poppies (Papaver nudicaule)
Antirrhinum

More Seeds to Sow in January...