February is still quite a cold month, but absolutely perfect for starting to sow your flower and vegetable seeds for the upcoming year. Using a growhouse or propagator can be really useful to help protect the vulnerable seedlings from the lingering frosts we can still get in February, or a warm windowsill can be used too.

Once the weather warms up towards the end of the month, or into March, depending on where you live, you can start to think about transferring young plants into your garden or vegetable plot.

To see all seeds that can be sown in February, take a look here.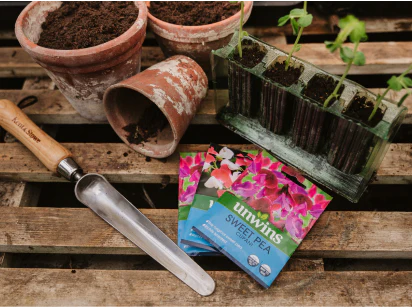 Top Seeds to Sow in February
You can start growing your chilli peppers this month for a bumper crop later on in the year. An earlier start for your chilli peppers will generally give you earlier and longer harvests.
Sow your chilli seeds indoors on a sunny windowsill, or in a heated propagator. Chilli like to germinate at around 21ºC so somewhere warm is much prefered! Once your seedlings appear, you can keep them in a slightly cooler location, but still try to aim for around 16-18ºC.
Growing chillis from seed gives you access to so many more varieties than you can buy in a supermarket! Unwins Chilli Pepper Quick Fire seeds produce a compact chilli plant, ideal for growing in pots, or for the really brave, why not try the infamous Unwins Chilli Pepper Trinidad Moruga Scorpion, known as one of the hottest chilli peppers, reaching 1.3 million + Scoville heat units!
February is the perfect time sow sweet peas if you didn't get this done last autumn! February has enough light levels for sweet peas to germinate, but they will need to be protected from the frosts, either on a windowsill or in a growhouse or propagator.
Once your sweet peas reach around 10cm tall, you can pinch out the top. This will encourage bushier plants, with more flowers! You can read our guide to growing sweet peas from seed here.
There are so many varieties of sweet peas to choose from. Try Unwins Sweet Pea Juliet for beautiful cream flowers, or go bold with Unwins Sweet Pea Midnight!
Vegetables
Aubergine
Cucumber
Celery
Chillies
Lettuce
Peppers
Tomatoes
Onions
Kale
Leeks

Herbs
Sow inside on a windowsill

Ornamentals
Delphinium
Sweet peas
Salvia
Cosmos
Busy Lizzies
Lavender
Dahlias

More Seeds to Sow in February...